The deadline to apply is February 17, 2023.
Overview 
Through the spring and summer of 2023, the Community Mural Institute (CMI) will combine online and classroom instruction, experiential learning, and professional mentorship for twelve artists, creating and installing three large outdoor murals in Morganton, NC, that are designed and painted in collaboration with Morganton communities using the indirect polytab mural technique.
There is increasing interest in murals as a means of creative place-keeping and particular interest in professional murals that involve the community in their creation. However, there are very few opportunities to learn how this is done. CMI is offering you this rare opportunity.
About the Morganton CMI
TOSS, an art advocacy studio in Morganton, NC, is partnering with CMI to create and develop these murals.
In the summer of 2021, TOSS asked a group of high school students to identify stories in Burke County that weren't represented through public art. Building on their research and a subsequent oral history project, TOSS is investing in the creation of 3 murals in Burke country which amplify the oral history stories and themes.
The process of creating these murals will also be a training program for emerging and established muralists to learn best practices in community-engaged and polytab mural making.
What Are Community-Engaged Polytab Murals
In the process we will teach, murals will start with facilitated community gatherings to identify themes, ideas and images that are meaningful for the group. The CMI Lead Muralists create the designs with support from CMI Instructors. The designs will be approved by the project organizers, representatives of the community and the building owners.
Once approved, mural teams made up of a lead artist and 3 mural assistants will be trained in the preparation of the mural canvas (polytab).  Each mural design will be projected onto polytab, creating a giant paint-by-numbers. 
The polytab sheets will be brought out into the community for paint parties run by the CMI teams where anyone and everyone can help paint.  
After that, the CMI teams will do the detail work and overpainting, and then be trained in polytab mural installation, in which the poly tab is adhered to the wall like permanent wallpaper.
Once installed, polytab murals look like they were painted directly onto the wall, are permanent, and last longer than murals painted directly onto the wall.
We are thrilled to spread this indirect mural technique that encourages larger community participation and durable long-lasting beautiful murals in public spaces. Lead muralists and assistants will come through the CMI fully trained in this mural method. 
Roles
There are two roles for artists participating in the CMI: Lead Muralists and Mural Assistants. All participants will learn the techniques and have opportunities to practice 1) community-engaged mural design, 2) community-engaged mural painting, 3) polytab mural prep, and 4) installation. The three Lead Muralists will each be in charge of a mural – painting the portraits and other signature stylistic elements. The Mural Assistants will participate in the community design and painting process and will work in teams with the Lead Muralists to paint and install the murals.
Compensation
Each Lead Muralist will receive a stipend of $3,000 and Mural Assistants will receive a stipend of $1,900.
CMI is right for you if:
CMI is right for you if:
are comfortable opening your artistic process to community input and critique

are comfortable talking, working with, and guiding groups of people you don't know

have an interest in creating narrative or figurative murals

committed to independently pursuing opportunities to create more community-engaged murals

interested in painting murals which require very long hours, taxing physical work, and working outside and in view of the public

are able and committed to creating designs and completing artwork on a structured, sometimes short timeline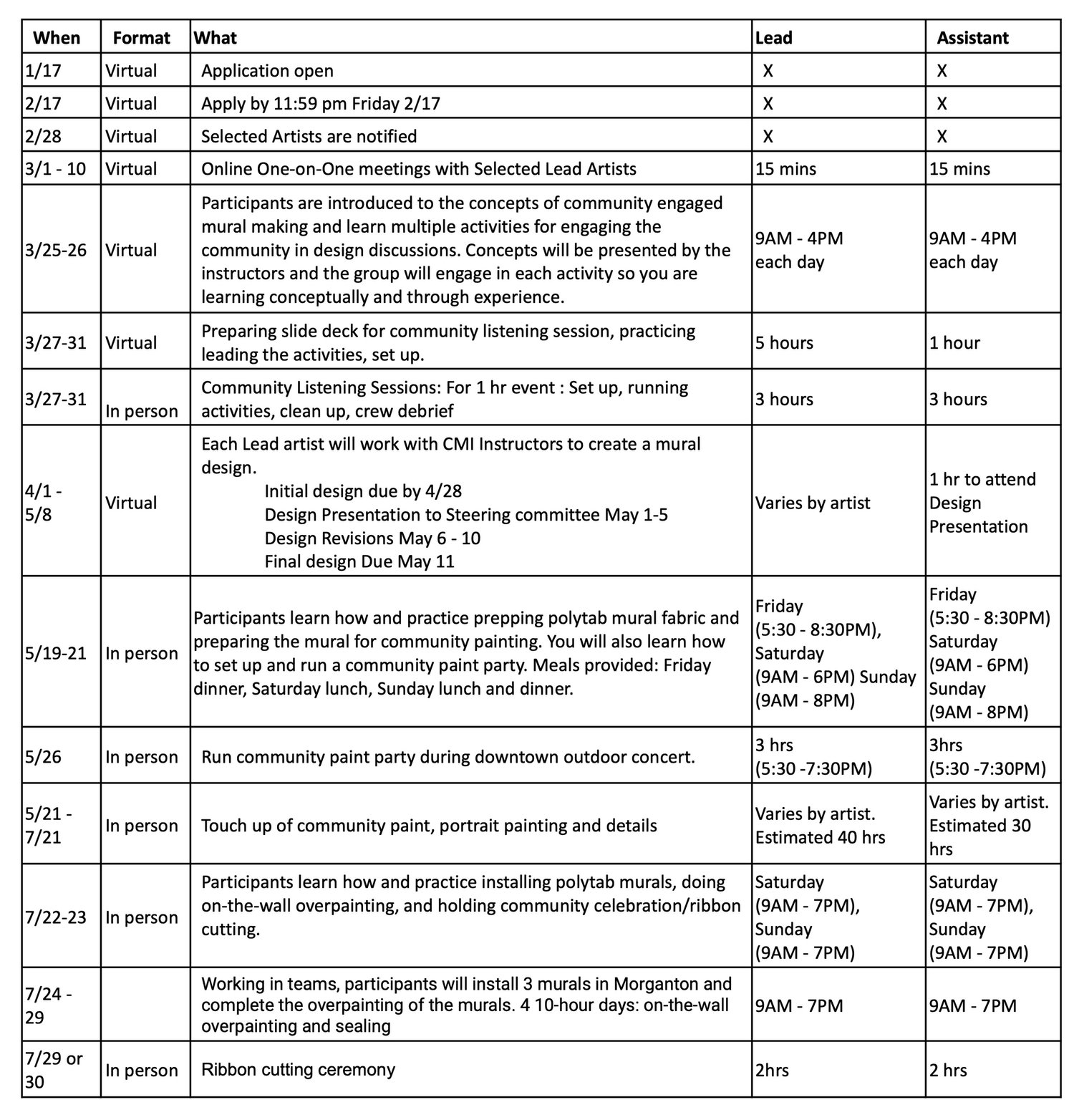 Instructors
The Community Mural Institute is designed and run by Greta McLain, the Founder and Artistic Director of GoodSpace Murals and Britt Ruhe, the Director of Common Wealth Murals and Producer of Fresh Paint Springfield
Greta McLain, Owner and Artistic Director of GoodSpace Murals, has over 15 years of mural making experience. Greta uses muralism to explore the ways that art can bring communities together, the power of visual language to activate voice, and the potential of art as a vehicle for hands-on organizing and educating. She has spent her career studying new and traditional mural  techniques in order to fine tune her mural practice for community participation. She has created over 50 projects in and around the United States (Minnesota, Tennessee, Ohio, Kentucky, Massachusetts, Pennsylvania,North Dakota, and California) as well as internationally with works in  Argentina, Mexico, Cuba and France. Greta works out of Minneapolis and travels around the country/world muraling and teaching wherever community art can be activated as a tool for positive community engagement. She earned her BA from the University of California Davis and her MFA from Minneapolis College of Art and Design. 

Britt Ruhe is the founder and Director of Common Wealth Murals, (CWM).  Since 2019 CWM has facilitated the creation of more than 40 murals, over half of which were created in collaboration with community. CWM produces Fresh Paint Springfield, an annual mural festival bringing neighborhood-specific fine art to diverse neighborhoods across Springfield,  collaborates in the production of Springfield's annual graffiti jam, and has produced window installations, bike kiosk installations, sidewalk art installations, and other temporary public art installations.  For over 20 years, Britt has led non-profit organizations, applying her skills in community organizing, project management, fiscal management, and public relations to create transformative opportunities for people to work together to improve their own communities. Britt holds a BA in Community Development and an MBA from UMass.
Artist Selection Criteria
Artists will be selected to participate based on the following.
Application Process Questions
General info
Name, email, phone number, mailing address, demographic information
The names, emails and phone numbers of 2 references who can speak to your artistic and/or professional experience
Indicate whether or not you:

have your own transportation
are available for all of the scheduled dates
Portfolio
Links to social media and/or a website which shows your artwork, if you have them
5 images of your artwork which best represent the style you would use for a mural (jpg, png or pdf files only)
A list of relevant work/artistic experience with murals and painting
A list of relevant work/artistic experience with community-engaged artmaking, teaching, workshop facilitation and public speaking
Artist Statement
An Artist Statement describing your approach to your artistic practice (one paragraph)
A short response to the question: Describe your past experience with community-engaged artmaking and/or why are you interested in this type of public art? (one paragraph)
Your contribution to cohort diversity in terms of race, ethnicity, language, gender and sexual orientation
A brief summary of the time and physical requirements for participating in the CMI as described in the Artist Call, and state your commitment to full participation if selected. (one paragraph)
For more information:
Kathryn Ervin
TOSS Director
647 Hopewell Road | Morganton, NC 28655
www.tosstudio.org